Iconic Vintage Bikes of India
Check out the most iconic vintage bikes in India some of were discontinued decades ago but coming back in the Indian market.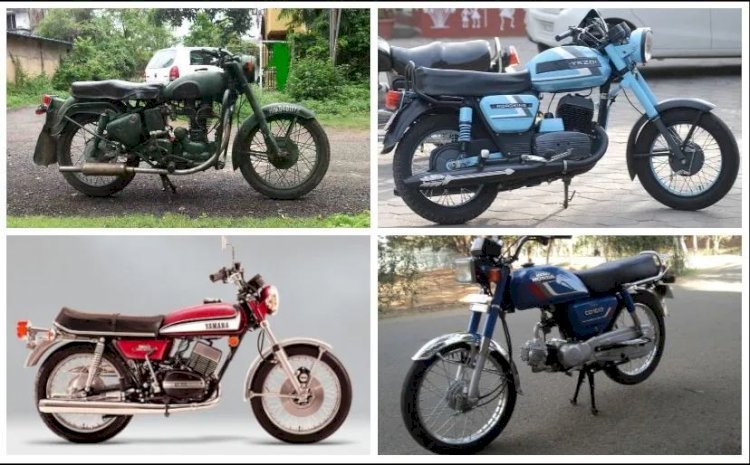 Check out the some iconic vintage bikes in India some of were discontinued decades ago but coming back in the Indian market.
Bajaj Chetak
The Bajaj Chetak is an Indian-made motor scooter produced by the Bajaj Auto company from 1972 to 2006.The Chetak is named after Chetak, the legendary horse of the Indian ruler Maharana Pratap.
Originally based on Italian Vespa Sprint, Chetak was an affordable means of transportation for millions of Indian families for decades and is lovingly called Hamara Bajaj (Our Bajaj).
Around 1980, the Vespa-licensed design was replaced with an all-new in-house design that shared the same general appearance and style. During its heyday its chief competitor was LML NV made by LML India as a licensed copy of the Vespa PX 150. In the face of rising competition from bikes and cars, Chetak lost ground in India, and production was discontinued in 2005 as Bajaj Auto stopped manufacturing scooters altogether.
Bajaj M80
The Bajaj M80 is another iconic gem from the Indian two-wheeler industry. It was very popular in the Indian market when it was launched back in the 90s. It has a unique design and was equipped with a powerful 2-stroke engine.
Bajaj Priya
The Bajaj Priya is a three-speed, 150cc scooter that was manufactured in Pune, India for Maharashtra Scooters from 1975 until April 1992 under a license agreement with Bajaj Auto Limited. The design was very similar to that of the earlier "Bajaj 150" model, which was in turn based upon a Vespa 150 (VBA type) with a slightly modified body.
Bajaj Sunny
The Bajaj Sunny was a scooter produced and sold by Bajaj Auto in India. Bajaj Auto no longer produces this vehicle. It had a 60 cc engine and a maximum speed of 50 km/h. It could carry a payload of up to 120 kg. It had a fuel tank capacity of 3.5 liters. Like most scooterettes, the Sunny was targeted at teenagers who were eligible to get a driving license for ungeared two-wheelers at 16 years of age.
The Sunny was a successful scooterette at that time. Bajaj stopped producing it in 1997. The Sunny Zip had a 60 cc engine and had a marginal power increase from its former model. The Sunny was a reliable two wheeler, and its two stroke engine offered a mileage of nearly 50 km/litre. Riding comfort was good and it was quite handsome in appearance. It had a single gear (automatically engaging) system, unlike the variomatic transmission used in the Kinetic moped or scooters then, or the TVS Scootys now. Overall it was considered a very fine scooterette even for an aged person.
Hero Honda CBZ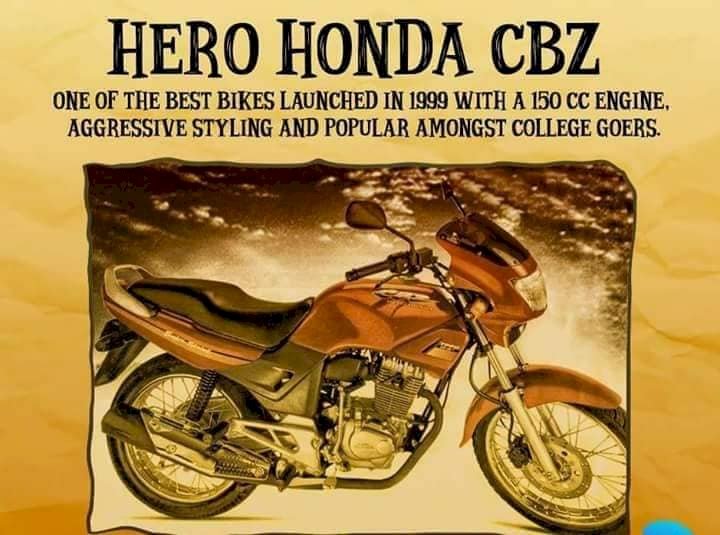 The Hero Honda CBZ is a motorcycle launched in early 1999 by Hero Honda, with an original Honda 156.8cc single-cylinder engine. The styling of the bike was a scaled version of the Honda CB series.The Hero Honda CBZ is a motorcycle launched in early 1999 by Hero Honda, with an original Honda 156.8cc single-cylinder engine. The styling of the bike was a scaled version of the Honda CB series.
Hero Honda CD100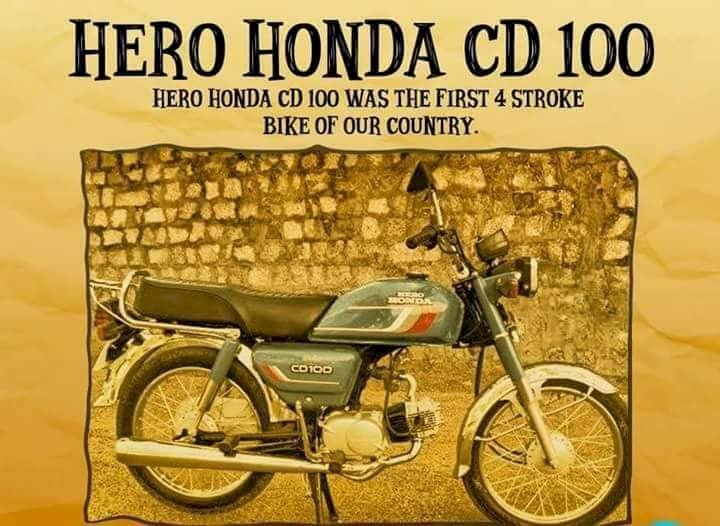 The CD 100 was launched in 1985 and marked a place in the heart of million riders in the country. The bike was packed with all necessary elements that needed for commuter rider. It was run by a 97cc, 4-stroke, single cyclinder, air-cooled engine
Hero Honda Sleek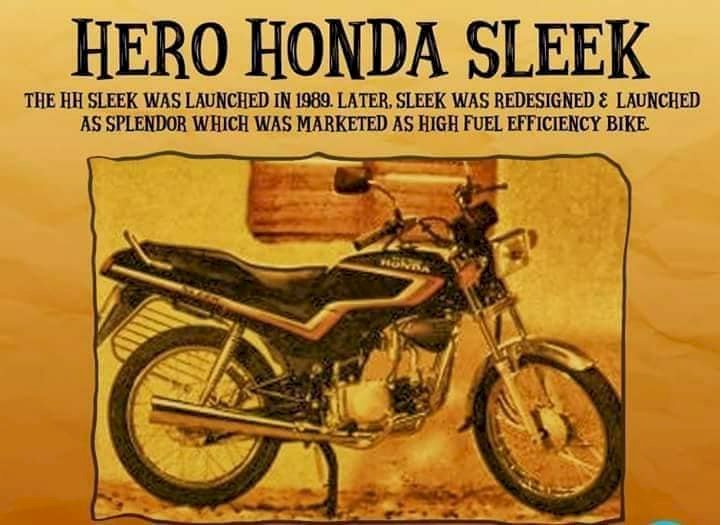 The Hero Honda Sleek was a design way ahead of its time. Launched in year 1989, the fiber body integrated tail section was not only aesthetically beautiful but also light weight. Many may associate the Hero Honda Sleek with that time television serial- "The Knight Hawk"
Yamaha RX 100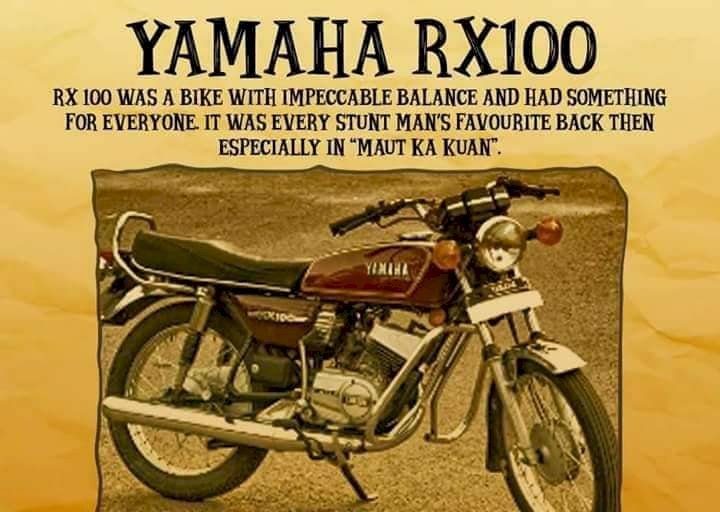 During the years between 1976 to 2006, Yamaha had produced a ranger, RX100, which became a milestone. Known for its powerful engine and attractive grunt, this vehicle managed to attract more bike freaks than was expected of it. 'Panther' as we call it now was launched in India in late 1985 shortly after Kawasaki-Bajaj KB-100.
Known as the most reliable bike then, the Yamaha RX was rumoured to have a bigger engine from what the company claimed. As reported from various sources online, to make sure that the engine is 100cc, few authorities opened it and double checked it.
YAMAHA RD 350
The RD350 is a two-stroke motorcycle produced by Yamaha from 1973 to 1975.[2] It evolved directly from the piston port (pre-reed valve intake tract), front drum-braked, five-speed Yamaha 350 cc "R5".
The engine is an air-cooled, parallel twin, six-speed (in some markets, such as the UK, the first model was sold in five-speed form), reed valve-equipped intake tract two-stroke engine. The bike is usually referred to as a sport bike.
The other iconic motorcycle from the Yamaha in the '80s was the revered RD 350. Its sales run in India went from 1983 to 1989 and boy! It was a mental motorcycle. The biggest point of attraction was that it was the first ever twin-cylinder performance bike to be brought to India. At the heart was a 347 cc parallel-twin engine that made 30.5 bhp in its 'high torque' model. But Escorts India (then manufacturer of Yamaha bikes in India) later introduced a de-tuned variant that churned out 27.5 bhp. With top speed in excess of 140 kmph and taut handling, the Yamaha RD 350 was a massive hit in its time.
Hero Honda Splendour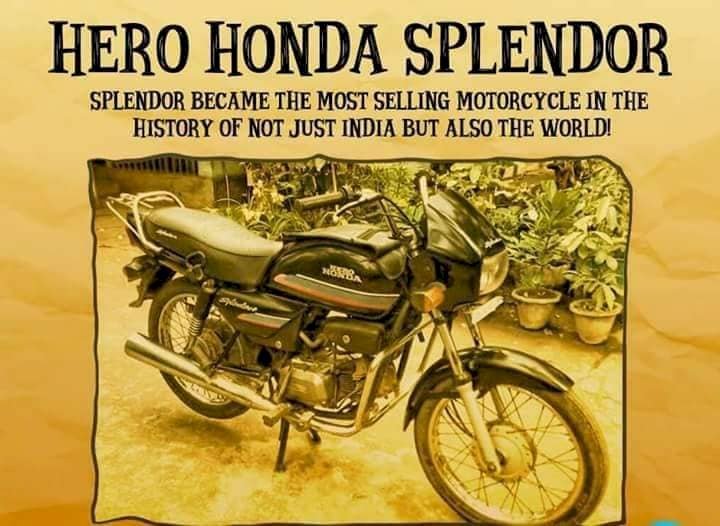 There was a time when if a person wanted to own a two-wheeler at a reasonable price, the first suggestion everybody made was Hero Honda Splendour. The motorcycle manufactured by Hero Honda created a record sale of one million units in a year 2009. This normal budget bike was product of a successful joint venture. This bike was later upgraded to Splendour+ before both the manufacturers decided to part ways.
The Splendour+ was later enhanced to Splendour iSmart in 2014.
Rajdoot 350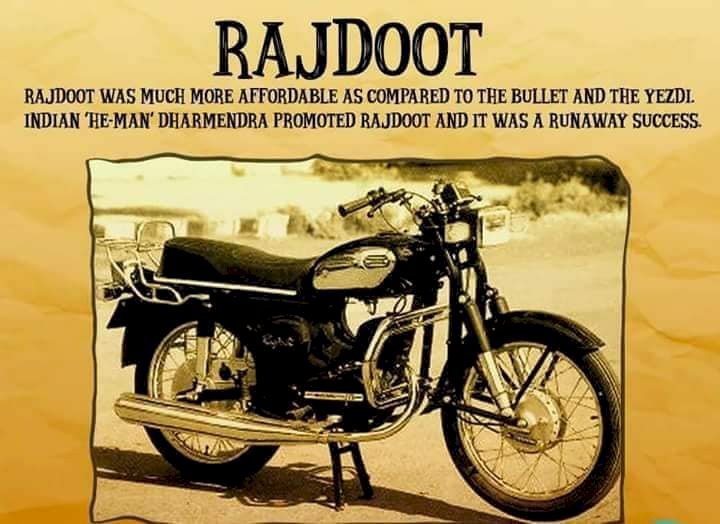 The years between 1983 and1986 was when Escorts Group manufactured Rajdoot 350 or RD 350, a two stroke muscular machine whose initials 'RD' also stands for Race Developed series and it was promoted in India as Rajdoot in collaboration with Yamaha Japan.
Rajdoot came into India when Yamaha RD350B stopped selling in Japan in the mid 1970s due to regulatory issues. It was launched in the Indian market in 1983 and was considered an advanced motorcycle on Indian land.
The competition at that time for Rajdoot was Royal Enfield Bullet 350 and Yezdi Roadking 250cc, but Rajdoot was unsuccessful in becoming a commercial vehicle due to high fuel consumption and expensive spare parts.
Rajdoot's production was stopped in 1990 and the last model was reportedly sold in 1991. The launch of Yamaha RX100 in 1985 took over the market while Rajdoot continued as a flagship model.
Rajdoot 350 specifications at the time of production were:
Engine: 347 cc (21.2 cu in) Two stroke, Air-cooled, Parallel twin, twin carburetor, 7 port torque induction with reed valves
Power: 39 bhp
Torque: Rajdoot 350 was made in two models - 'High Torque (HT)' and 'Low Torque (LT)'.
Transmission: 6-Speed
Yezdi Roadking 250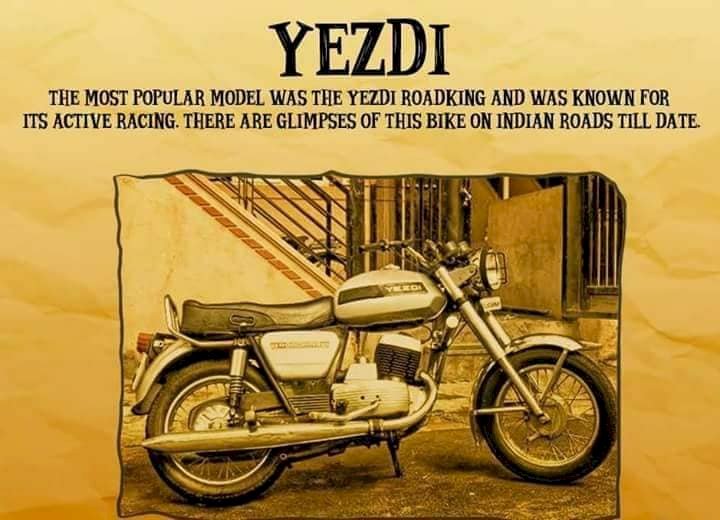 Yezdi was based on the CZ 250 ridden by driver Jaroslav Falta who won Motocross World Championship in 1974. Yezdi Roadking was produced in India by Ideal Jawa Ltd. at Mysore. This bike, produced mainly between 1978 to 1996, had a 250cc engine with twin exhausts and a semi-automatic clutch. It won many road rallies and races in India.
As a result, Yezdi Roadking is in huge demand among youngsters even today, as it gives a heritage and royal look after few modifications and upgradations.
A nominal price can be paid for the old machine and the look can be elevated with new body setup, finish and touch.
Yezdi Roadking 250cc specifications at the time of production were:
Engine: 250 cc (15 cu in) Air-cooled, two-stroke cycle, single cylinder, twin exhaust, kick start
Power: 16 bhp
Torque: 2.43 Kgm at 4250 RPM
Transmission: 4-gears
Royal Enfield Mini Bullet 200cc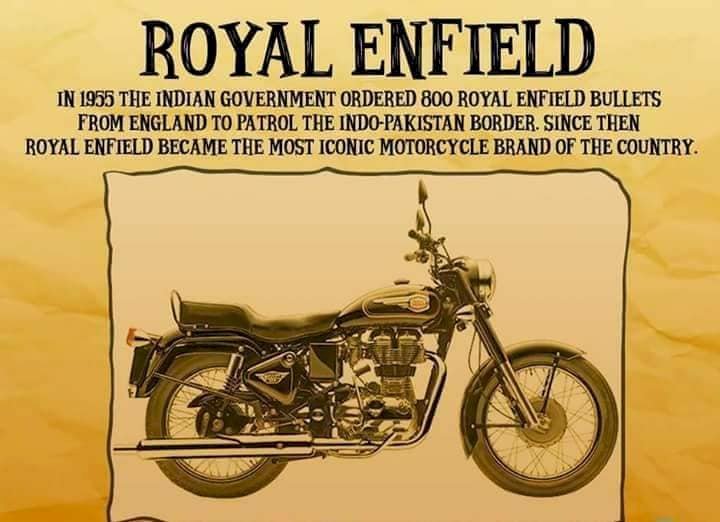 After the production of Enfield was stopped in England in 1971, its Indian counterpart (now Royal Enfield) started manufacturing Mini Bullet from 1973. It was first named Enfield 200 but later the name was changed to Mini Bullet 200 as a marketing strategy.
Mini bullet was developed as an advanced version of 173cc Villiers powered Crusader and was a first choice of racing enthusiasts. It also carried various generic British and Bullet 350 parts which itself defines the heritage of this ultimate 200cc machine.
Now the time has come where it is very rare to spot any Mini Bullet and if you will search for them, you may find a few units dumped away and covered in a coat of rust.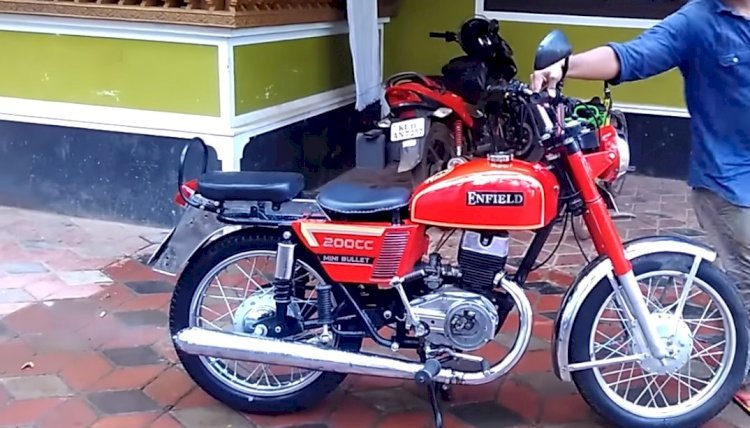 Mini Bullet represents the history of the company 'Royal Enfield', its survival and development of the Enfield brand in India. Enfield is also the oldest motorcycle production company in the world.
Mini Bullet 200cc specifications at the time of production were:
Engine: Villers type 25 Carb, 2 stroke 197cc motor
Suzuki Samurai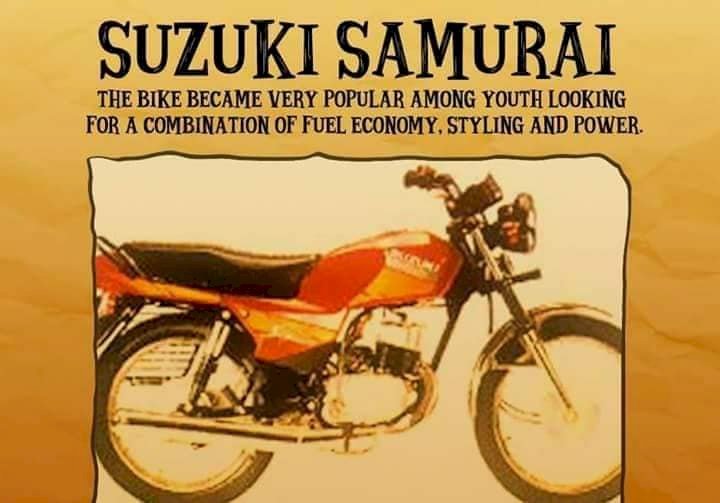 Suzuki Samurai was a copy of two-stroke Suzuki AX100 made by Suzuki for the Indian market with a top speed of 106 km/h. Suzuki Shogun and Suzuki Shaolin was another most torquier bike of India, Launched in 1998 and discontinued.
Hero Puch
Hero Puch was performed extremely well in India till the end of 2003. The company was founded by Johann Puch in Austria and then sold entire production line of Puch Maxi Plus to Hero Motors.
LML Vespa

LML Vespa was produced by the Indian scooter and motorcycle manufacturer geared Vespa by Piaggio. The scooter came with two different versions and now offers new yet classic scooter.
Kinetic Honda

Kinetic Honda was best two stroke scooters in India with joint venture of Kinetic Engineering and Honda Motors.
Jawa
Jawa became a very successful brand in India in the 70s and 80s. The bikes were slightly more affordable than the big RE's and therefore attracted a lot of people. The Jawa was also very popular in motorsport and did pretty well in international and local races. The Jawa 250s became very popular, with its classic design and sturdy build quality, which attracted a lot of people. The cult status of Jawa is strong even today, which is why the brand was recently resurrected by Mahindra.
Yezdi 250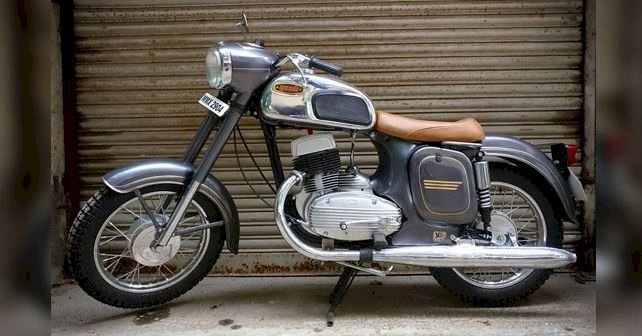 Apart from the Jawa, the Yezdi brand also became very popular. The Yezdi 250 was built on an old rally chassis, and that is why the bike was considered to be as tough as nails. It soon started taking part in rally races where the bike was very successful. The engine was a brilliant 250cc two-stroke engine with 16bhp and 23Nm of torque. The design was interesting, and the bike soon became very popular and changed the motorcycle scene in India, with its lighter body and overall better performance. Even today the Yezdi costs a lot to buy from a collector, and there is talk of reviving the brand just like Jawa.
Ind Suzuki AX100
Ind-Suzuki AX 100 is a two-stroke, 98 cc motorcycle from Tvs-Suzuki. It was made in Japan, India and China.
The Ind-Suzuki Ax-100 was the result of the collaboration between the Japanese giants Suzuki Motor Corporation and the "Sundaram Clayton" (Later TVS). This was the first-ever 100cc motorcycle launched in INDIA. The first batch vehicles came as Completely Knocked Down kits due to this reason the production cost was a bit higher. It was successful during the launch period but failed to repeat the success it had in the later years
Kawasaki Caliber
The Bajaj Kawasaki Caliber was a motorcycle developed and sold by Kawasaki and Bajaj in India from 1998 to 2006. It was made by incorporating some improvements in the Bajaj 4S. One of the changes was the addition of an oil filter. The Caliber had a 111.6-cubic-centimetre engine
Kinetic Luna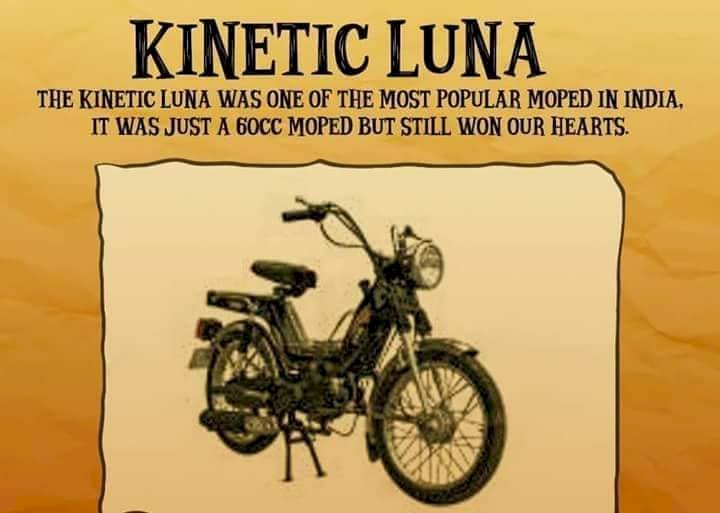 Kinetic Luna is a 50 cc moped that was introduced by Kinetic Engineering in India in 1972.[1] The Kinetic Luna continues to be produced and marketed in India. It is marketed in the USA as Kinetic TFR. A 35 cc version, the Luna Wings, was also produced. The original Luna of 1972 was a licensed copy of Piaggio Ciao moped. It has since been updated by Kinetic until the end of production in early 2000s.
Lambretta
Lambretta (Italian pronunciation: [lamˈbretta]) is the brand name of mainly motor scooters, initially manufactured in Milan, Italy, by Innocenti.
The name is derived from the word Lambrate, the suburb of Milan named after the river Lambro which flows through the area, and where the factory was located. Lambretta was the name of a mythical water-sprite associated with the river which runs adjacent to the former production site.
In 1972, the Indian government bought the machinery of the Milanese factory, creating Scooters India Limited (SIL) in order to produce the Lambro three-wheeler under the name Vikram for the domestic market. Lambretta scooters were also manufactured under licence by Fenwick in France, NSU in Germany, Serveta in Spain, API in India, Yulon in Taiwan, Pasco in Brazil, Auteco in Colombia and Siambretta in Argentina.